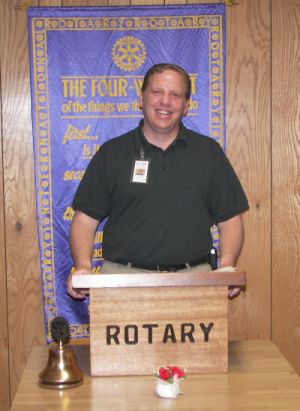 Our speaker on June 12th was Darrel Skinner from Lincoln Self Reliance. LSR's main office and service location is located at 1038 Washington Street in Afton, WY, with a second service location at 20 Adaville Drive, Diamondville, WY.

LSR is a Wyoming community service provider for individuals with adult and child developmental disabilities, acquired brain injuries, and vocational services. The full list of services they offer are listed below.

Their mission statement is, "...to provide training and support to individuals with disabilities so they may achieve maximum potential for self reliance and active participation in the community".

Darrel brought with him a handout of the LSR 2007 Company Points of Interest which appears below:

1. Incorporation date July 2000, in business for over six (6) years.
2. Private Not-for-profit 501c3.

3. Governed by Board of Directors (7 members):
a. Steve Johnson - P&M Mine (Manager) – President
b. Tom Davis – Star Valley Realty (Owner) – Vice President
c. Sharon Walker – Bank of Star Valley (Vice President) – Sec/Treasurer
d. Jill Larson – Alliance Title & Escrow (Office Manager) – Member
e. Dixie Roberts – Parent – Member
f. Margie Points – DVR (Vocational Counselor) – Member
g. Vacant Position
4. Started out serving two (2) clients in Kemmerer and expanded to current client count of fifty-eight (58). Serving thirty (30) adults and twenty-eight (28) children located throughout Lincoln County with the following services:
a. Day Habilitation
b. In-Home Support
c. Personal Care
d. Respite
e. Supported Living
f. Adaptive Equipment Purchase
g. Community Based Employment
h. Case Management
5. Business locations in Afton and Kemmerer/Diamondville:
a. Administrative Office in Afton
b. Day Habilitation Facilities – Afton/Diamondville
6. Currently have thirty-one (31) employees:
a. Twenty (20) in Afton
b. Eleven (11) in Diamondville
7. Opening Supported Living Home in Afton:
a. Five Bedroom
b. Employ additional eight (8) staff
c. First supported living home for developmental disabled in Lincoln County
8. New programs being implemented during next 12 months:
a. Music – Taught weekly during Day Habilitation (Started)
b. Art – Taught Weekly during Day Habilitation
c. Swimming – Twice weekly Day Habilitation (Started Diamondville only)
d. Residential Habilitation – New Supported Living Home (Afton)
9. Highlights over past six years:
a. Certification through - Council for Accreditation of Residential Facilities (CARF)
b. Star Valley Chamber of Commerce Business of the Year 2004
c. OSHA - Safety and Health Achievement Recognition Program (SHARP) – past 4 years
d. Wyoming Direct Support Professional of the Year 2003 – Susan Park
e. Wyoming Direct Support Professional of the Year 2004 – Cindy Wardell
f. Wyoming Direct Support Professional of the Year 2005 – Shirley Deason
g. Wyoming Regional Service Providers Membership – 2005 (First organization to receive membership in past ten years)
h. 2006 Governor's Safety Award – Best Safety Program Small General Industry
i. 2006 WYTRANS Trainer of the Year – Cindy Wardell
10. Strategic Planning next five years:
a. Horse back riding (Hippo Therapy) – Star Valley
b. Supported Living Home - Diamondville
c. Additional Day Habilitation Buildings - Thayne/Alpine
d. Thrift Store - Afton/Kemmerer

For more information about LSR, you can check out their web site at http://www.lsrservices.org, or call them at 307-885-1577. You may also contact them through the Star Valley Rotary Club by filling out our on-line form, or by E-mailing us.