Ron and Laura Lechner, the Center for Healthy Living

On September 23rd, 2009, we had the pleasure of hearing from Ron and Laura Lechner, a husband and wife team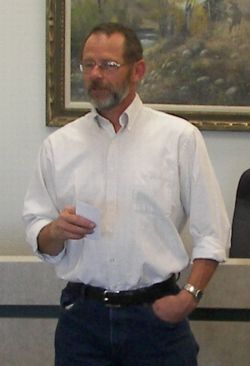 from Star Valley who who run the Center for Healthy Living in Freedom, Idaho, and specialize in whollistic/homeopathic healing and midwifing, respectively. (Click on either picture to see an enlargement).

Ron has studied Lifestyle Management at Weber State, which included 3 minors in excercise science, nutrition, and health promotion. While in China with the military, he studied the three parts of Chinese healing: acupuncture, herbs, and energy medicine called Qi Gong (pronounced Chee Gong).

He also has studied Foot Zone Therapy (similar to Reflexology), herbs, essential oils, flower essences, breathing techniques, Applied Kenesiology (which is also known as "muscle testing"), Dr. Nelson's Emotion Code (trapped emotions effect our health), Quantum Touch, and more.

Ron notes that more and more are realizing that certain kinds of whollistic healing and homeopathic techniques and remedies really work, and sometimes better than "normal" doctors' medicines and techniques. There was quite a lot more discussed. Hear Ron's presentation here (a 9.6MB WAV file).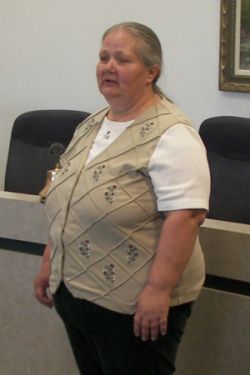 Laura spoke to us about helping Ron, but mostly about being a midwife. She says we are at the tail-end of more people using midwives than not. Most today would rather go into a hospital, in case of problems, but some are still wanting the experience of having their babies in the comfort of their own homes. Many are wanting to control the birth as much as possible (as much as any birth can be controlled!)

Laura has had 10 of their own children at home, with Ron as the midwife (midhusband?!?) Each was very special. Laura helps birthing mothers have a safer birth. The parenst are always in charge, but Laura can use her many years of experience to say when it might be time to go to a hospital. Hear Laura's presentation here (a 2.5MB WAV file).

We then had a question and answer period, which you can hear here (a 4.2MB WAV file).

They can be reached at (208) 873-9111 if you have questions or to make an appointment.