Students of the Month for the School Year 2009-2010
Rotary of Star Valley is pleased to work in conjunction with Lower Valley Energy and the Star Valley High School to honor two students of the month. These students are chosen by their teachers and are awarded a $50 check from Lower Valley Energy and a free lunch from the Rotary Club of Star Valley. These students also have the opportunity to apply for a $500 scholarship from our Rotary Club. Some of the most recent winners are listed below. Click on their picture to see an enlargement.


---
On April 13th, 2010, we were pleased to hear from two more of our fabulous Students of the Month. This month we had Emily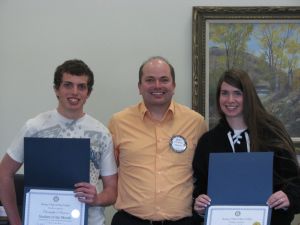 Porter and Christopher Sessions speak to us.

Emily is taking college credit classes to get ahead an holds a 3.7 GPA. She competes in volleyball and basketball, and has been to States. She plans to go to Utah State College for Elementary Education. Her favorite class is Math, but she doesn't like Science as much. She has 5 other brothers and sisters.

Christopher is also taking some college credit classes, and has to work hard to maintain his 3.5 GPA. He competes in Track and Cross-Country and plays guitar in the SVHS Bluegrass band and Jazz band. He has been accepted to BYU Idaho and starts in January. Until then he's looking for work! He hopes to make a career in music and the performing arts. His favorite subject is Seminary, with his least favorite being Math. He is an Eagle Scout and has 4 other siblings.



---
---

For October through December of 2009 we had Brock Gardner,