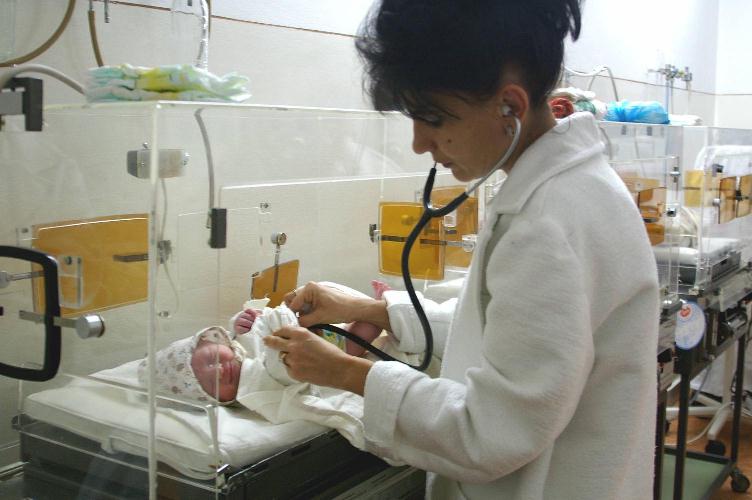 The Cause:
Romanian Relief Efforts is a project established by residents of Star Valley, WY. A small humanitarian team took basic medical supplies into a hospital in Moldavia during July-August of 2003. At that time the need for Women and Children's Services took the forefront in our efforts. The population of surrounding areas are largely unemployed. There are no opportunities for industry and the medical institutions have no funding.
The 300 bed hospital does not have the bare minimum of supplies to provide services to the area. Patients are fed from their garden (in season) while families bring food from home for the remainder of the year. Running water is available for two hours per day. There are no antiseptics or medicines unless brought by the patients.

In Labor and Delivery the hospital has no diapers and no blankets for newborn infants. Children are often wrapped in their mother's clothing. There are no bottles, nipples or formula available for the Pediatrics Ward. Dehydrated or ill infants often do not survive. The picture above-right shows a Romanian doctor testing the equipment. Click on the picture for a larger view.

The Country:
Moldavia is a poor region of Romania. Industry and Medical services were supported by the Communist regime, until it's fall in 1989. Since that time, this area has been largely neglected and resources have been distributed in regions with larger, more affluent populations.

The People:
The residents of Moldavia are divided into 3 main classes:
Peasants produce everything needed for their basic existence, much as their ancestors did a thousand years ago. They have no need for money and own very little except the roof over their heads and a few animals and land.
Farmers operate independently and have no access to farm equipment. Many have electricity and a few conveniences but usually draw water from wells, travel by horse and wagon, and live much as people in the early 1900's.
Professionals live in cities and assume a trade which provides them with an ability to pay for the higher priced lifestyle of an apartment and local transit. Vehicles are owned only by the most affluent.


Wage Comparison:

Director General of the Hospital- $240/month
Nurses- 48 hours a week, $120/month
High School teacher- $160/month
Romanian Red Salad Recipe:
Chop five medium size Tomatoes
Marinate in unfiltered vinegar and sunflower oil.
Season with salt , pepper and oregano
Toss and Top with a dab of sour cream.
Sprinkle with grated cheese . Serves Four.

PROVERB- IF EVERYONE DONATES A THREAD, EVENTUALLY A SHIRT IS MADE.

To receive free copies of Newsletter updates, please send your Name and address to:
Marta Heap
P.O. Box 157
Thayne, WY 83127