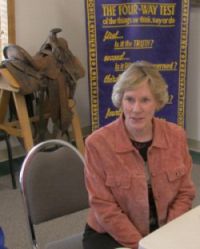 On Tuesday, June 10th, it was our pleasure to welcome Ann Wright from Star Valley Therapeutic Activities and Riding (S.T.A.R.). She is trying to start a therapeutic riding program in our area for handicapped and challenged children and adults. Hear the first part of her pesentation here (a 2.5MB WAV file). And the second part here (a 4.5MB WAV file).

Ms. Wright recently just retired from being a teacher for over 30 years in the Jackson, Wyoming area, where she taught first grade. She moved to Star Valley because of its beauty and ample farm land. She was looking for horse property, and found a great property on Aspen Hill, a few miles South of Alpine. She combined years of teaching elementary school with her horse experience and helping the Jackson Therapeudic Riding program into her own.

This type of program is an all-age program - adults all the way down to pre-schoolers. Programs are run as non-profits with volunteers. She says that once you start working with handicapped or challenged individuals, you just get hooked. She then got her certification to teach therapeutic riding.

She has seen wonders and even miracles through these programs. The stride of a horse is not unlike the stride of a person, and when a person sits on a horse, as it walks, it actually makes the rider "use" the muscles to stay on the horse that they would use to walk themselves. They get excellent physical therapy as they enjoy riding. Some that couldn't walk much at all can now walk with almost no assistance. Those that are in wheelchairs have to use their core muscles to sit up on the horse. Individuals wth atrophied muscles can get their muscles stimulated and even growing. Other students that have emotional challenges can gain self-confidence through working with horses. The horses' movements also improve a rider's digestive system.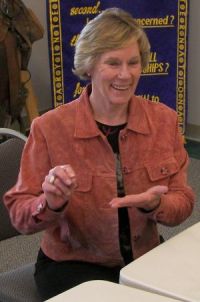 Many parents that were taking their children from Star Valley all the way up to jackson wrer asking if they could open a program down here, so Ann started looking into doing it. This brought her to Kelly Tolman, Principal of the Osmond Elementary School. He was able to get her in touch with many families and contacts in our area. His secretary, Karen Johnson, also helped a great deal. She is trying to get her certification as well. Ann says a horse has a huge heart and a giving soul and all people associated with them can benefit from them.

STAR has progressed since last year to having a board of directors, by-laws, monthly meetings, has applied for its 501(c)(3) non-profit status, events to raise money (see flyers at the bottom), a booth at the Alpine Mountain Days with home-made quilts, etc. They are looking for donations for start-up costs to assist, especially for liability insurance.

Ms. Wright is planning to start the program at the Lincoln County Fair Grounds during good weather. They are thinking of putting in a covered arena. They are hoping the Special Education department of the Star Valley School System will want to send students to the program. Some teachers (physical and occupational therapists) are going to get their certifications for therapeutic riding. Ann is pleased that so many individuals are getting involved to help. Many are offering horses for use or are volunteering to help be horse leaders or side-walkers, spotters, etc. All are needed to help keep the rider's balance.

There are also a number of specialized pieces of equipment to help a disabled rider to mount a horse and steady them while they're riding. These will cost a bit of funds. There are "light" saddles to allow the rider to feel the horse's back better. One Cerebral Palsy client in Jackson had such stiff legs that would only relax enough for benefit to him when he rode the horse! What a great therapy!

It takes time to get a program going, but it's coming alon better than Ann had hoped. Funds are needed soon. Many are waiting to take adavantage of a local program. The Fair Board and the County Commissioners are behind it. Such a program can even benefit veterans and seniors. This is not unlike therapy dogs and cats in hospitals and senior centers.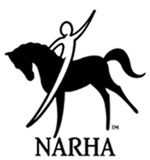 It is possible that this program could have multiple locations throughout the valley. If anyone has a covered arena, please get in contact with Ann.

You can get in touch with Ann Wright by phone at 307-883-1347, by E-mail at awright@silverstar.com, or you can fill out Rotary's Contact Us form and we will pass along the information. You can read more about therapeudic riding at http://www.narha.org (The North American Riding for the Handicapped Association).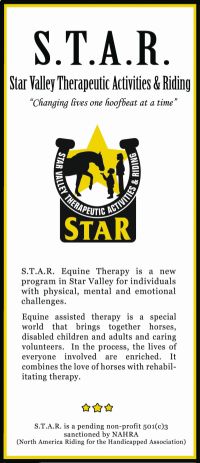 Page 1 of the STAR informational flyer is shown in thumbnail form to the left. you can also see it in JPEG format 800x1800 or in PDF format by clicking the respective link.

Below is the flyer for the Poker Ride event that they are hosting on July 5th, at 2:00pm, after the parade at the Lincoln County Fair Grounds. You can also see it in a larger JPG or in PDF format.